OUIJA®: Wednesday Edition Coming Soon - The Op Games Brings New Twist Inspired by the Hit MGM Television Series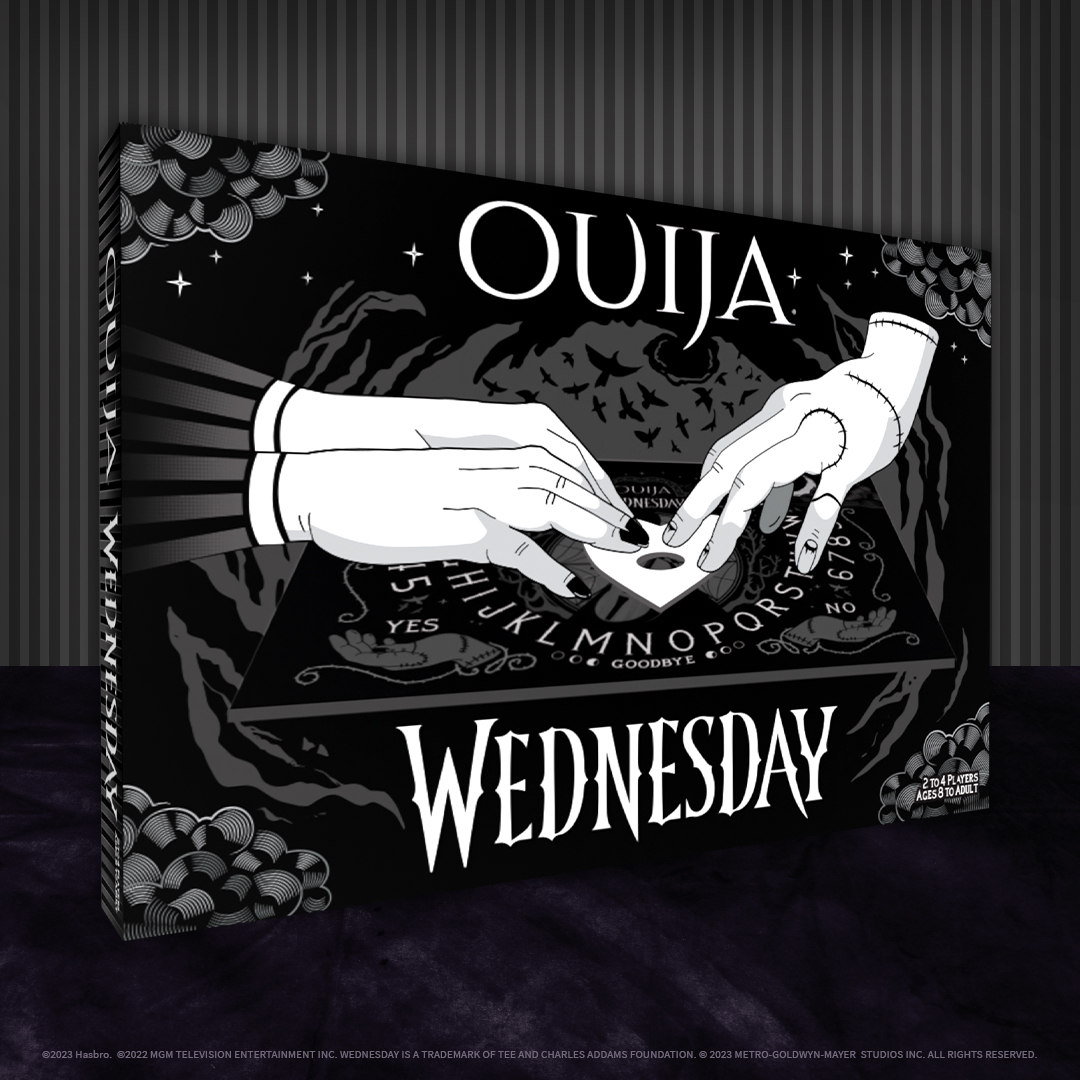 Just in Time for Halloween, Wednesday Fans Will be Able to Experience Their Very Own Spectral Vision

 CARLSBAD, Calif., October 12, 2023 -- Usaopoly (The Op), the board game and puzzle publisher behind iconic licensed games and best-selling party games Telestrations®, Blank Slate™, and Hues and Cues™, is collaborating with Amazon MGM Studios on the launch of an even spookier twist on the classic Ouija board game, OUIJA®: Wednesday Edition, under license by Hasbro, a leading toy and game company. Bringing all of the fun and ghoulish details from Nevermore Academy to the iconic spirit board, the game will enable fans to summon and speak to spirits alongside one of their favorite characters.  

Played as a traditional OUIJA® board for those with impaired spectral vision, fans are invited to join together around this glow-in-the-dark game board and turn to the spirits to seek knowledge from the world of the mysterious and mystifying. Grab a friend and pose your questions, using the planchette to help guide the spirits, revealing truths from beyond the veil. Patience is key to creating a strong bond, but with a clear mind and strong will, your link to the spirits beyond will spell out truths you seek...if you dare!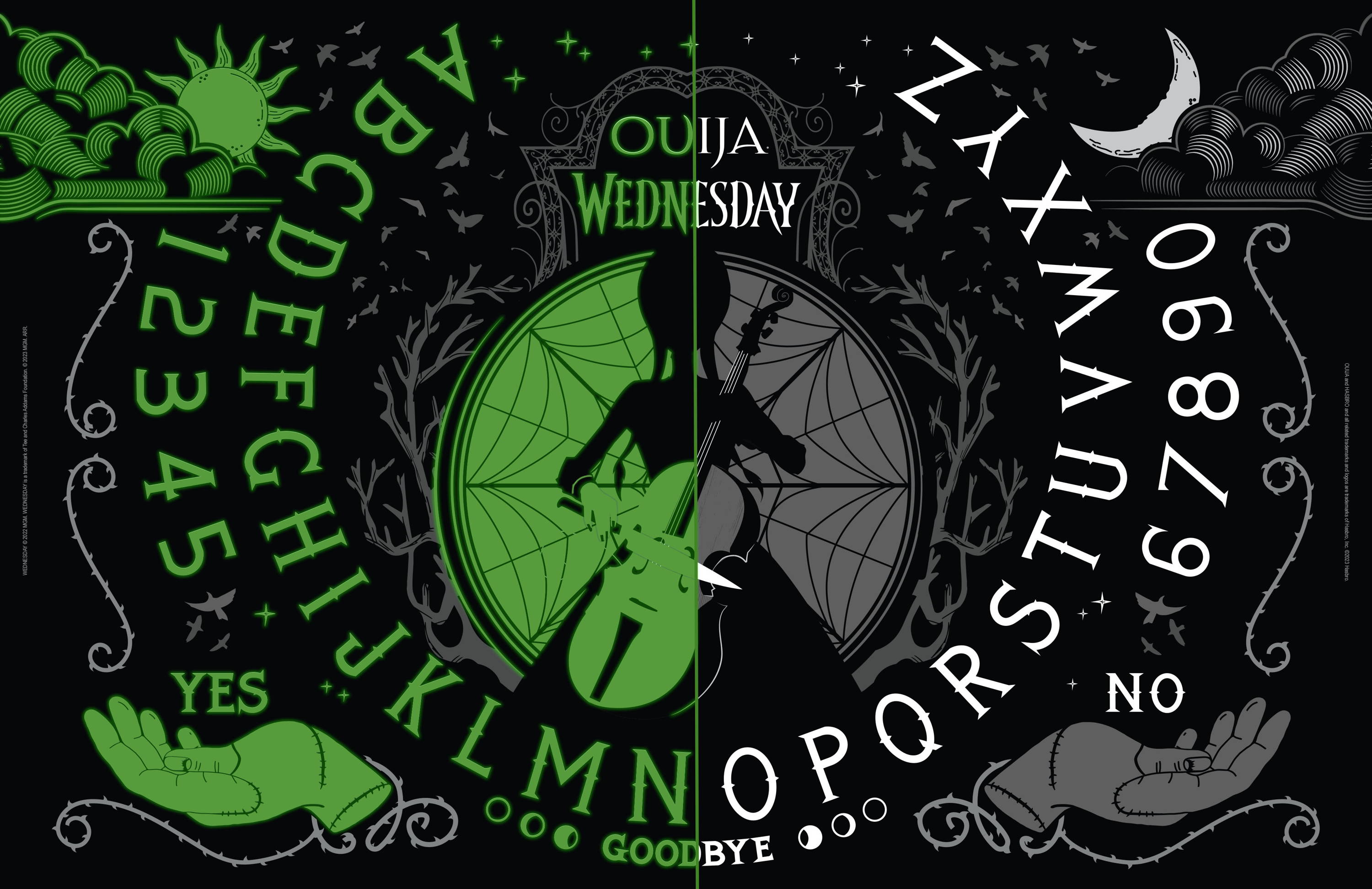 "We're so excited to debut OUIJA®: Wednesday Edition just in time to celebrate the series' one-year anniversary," said Dane Chapin, CEO of The Op. "Wednesday introduced a whole new generation of fans to The Addams Family world, and we're looking forward to bringing them a fun, new piece of must-have merch to get their hands on just in time for Halloween."
Robert Marick, Head of MGM Consumer Products, said, "In tandem with The Op, we're looking forward to bringing a bit of the spirit world to Wednesday fans. Now they will be able to stir up their own spirits as they await the second season of the series."
Designed for two to four players, ages 8 and up, fans will be transported to Wednesday's eerie world at Nevermore Academy with their very own Wednesday-inspired Ouija board and planchette as their guide. Contact other realms using the power of the board, but be warned not to upset any spirits along the way!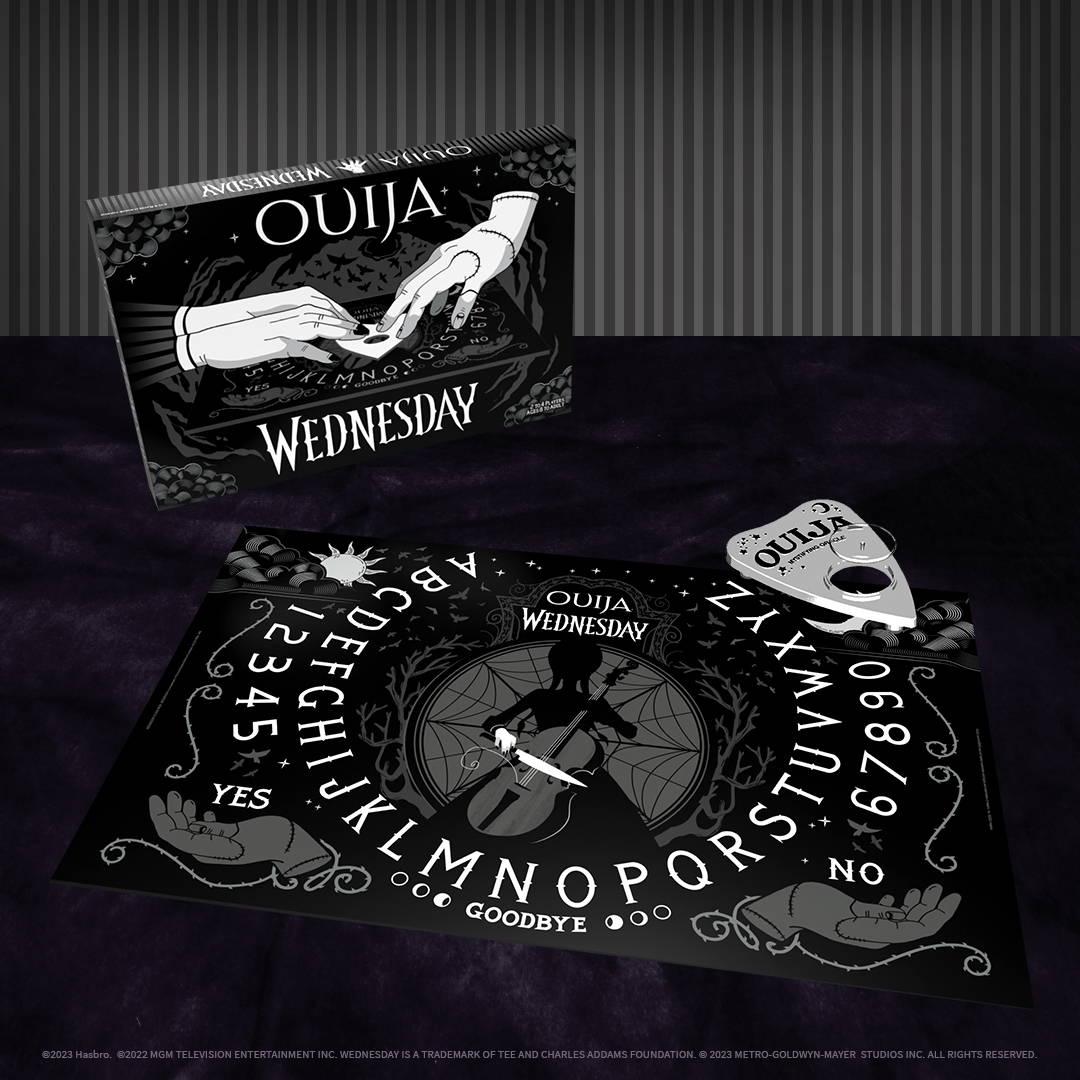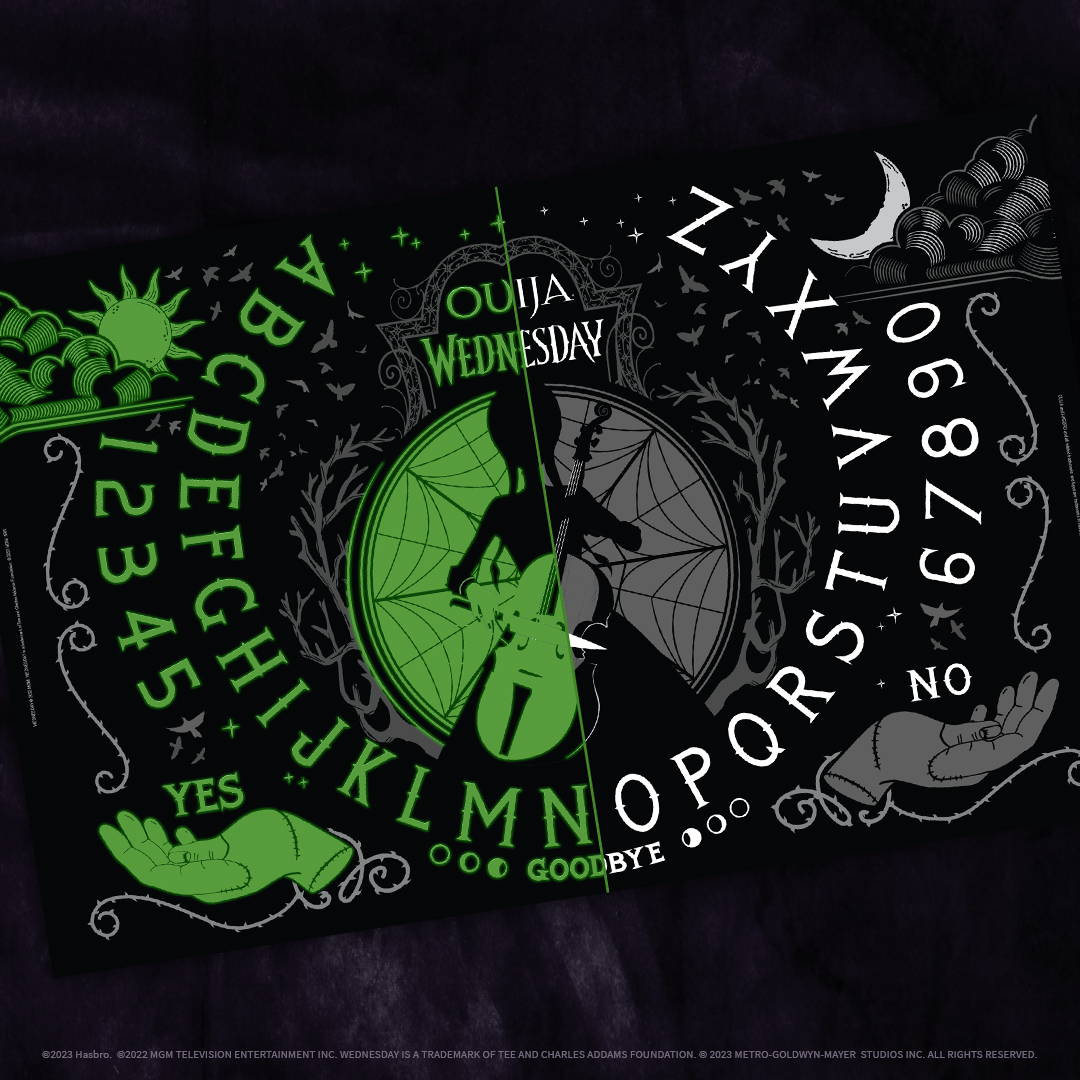 OUIJA®: Wednesday Edition (MSRP: $29.99) will be available later this month on The Op's website and from other retailers. To learn more about the game and The Op, visit www.TheOp.Games, and follow along on social (@TheOpGames) for more on the latest game announcements and launches.
More Spooky Games You May Like!

About Usaopoly (aka The Op Games)
The Op, also known as Usaopoly, is a family entertainment company and leading publisher and manufacturer of board games and puzzles for over 25 years! Our diverse portfolio includes award-winning and best-selling titles such as TELESTRATIONS®, BLANK SLATE™, HUES & CUES™, TAPPLE and HARRY POTTER™ HOGWARTS BATTLE™ as well as licensed versions of MONOPOLY®, CLUE®, MUNCHKIN®, TRIVIAL PURSUIT®, DICE THRONE, SMASH UP, and more. The Op continues to partner with marquee brands and licensors such as Hasbro, Disney, Marvel, Nintendo, Warner Bros., Cartoon Network, and Nickelodeon. The Op is passionate about bringing family, friends, and fans together to create memorable experiences through play! Learn more at www.TheOp.games.

About MGM
Metro Goldwyn Mayer (MGM), an Amazon Company, is a leading entertainment company focused on the production and global distribution of film and television content across all platforms. The company owns one of the world's deepest libraries of premium film and television series, as well as the premium commercial free pay television network MGM+ U.S., which is available domestically via cable, satellite, telco and digital distributors. MGM+ International, an on-demand service, delivers the best of MGM's rich catalogue of movies and series to an international audience, and is available in 25 countries across Europe, Australia, Asia, Latin America, and Canada. MGM also owns unscripted production companies Big Fish Entertainment and Evolution Media. For more information visit www.mgm.com.

About Wednesday
Wednesday follows Wednesday Addams' misadventures as a student at Nevermore Academy, a very unique boarding school snuggled in deepest New England. This series marks the first time fans get to see the character of Wednesday not only in a new boarding school environment, but also as a teenager. Wednesday attempts to master her emerging psychic ability, thwart a monstrous killing spree that has terrorized the local town, and solve the supernatural mystery that embroiled her parents 25 years ago—all while navigating her new and very tangled relationships at Nevermore. The series, which debuted in November 2022 on launched at #1 in 83 countries. It has also become the #1 most watched English-language series of all time on Netflix shortly after launch.
About Hasbro
Hasbro is a toy and game company whose mission is to entertain and connect generations of fans through the wonder of storytelling and exhilaration of play. Hasbro delivers engaging brand experiences for global audiences through toys, consumer products, gaming and entertainment, with a portfolio of iconic brands including MAGIC: THE GATHERING, DUNGEONS & DRAGONS, Hasbro Gaming, NERF, TRANSFORMERS, PLAY-DOH and PEPPA PIG, as well as premier partner brands.
Hasbro is guided by our Purpose to create joy and community for all people around the world, one game, one toy, one story at a time. For more than a decade, Hasbro has been consistently recognized for its corporate citizenship, including being named one of the 100 Best Corporate Citizens by 3BL Media, one of the World's Most Ethical Companies by Ethisphere Institute and one of the 50 Most Community-Minded Companies in the U.S. by the Civic 50. For more information, visit https://corporate.hasbro.com.