The Op Games | Usaopoly Launches MONOPOLY®: RUPAUL'S DRAG RACE EDITION – Available Now!

Inspired by the Emmy Award-winning reality competition, players can embrace superstardom in this ultimate game for Drag Queen fans
CARLSBAD, Calif., May 12, 2023 -- Usaopoly (The Op Games), the board game publisher behind iconic licensed games and best-selling party games Telestrations®, Blank Slate™, and Hues and Cues®, under license from Hasbro, a global leader in play, today announced its most glamorous board game yet with MONOPOLY®: RuPaul's Drag Race, in collaboration with global multi-platform media company World of Wonder. Based on the Emmy Award-winning reality competition franchise, the game will be unveiled for the first time at RuPaul's DragCon 2023, taking place May 12-13th in Los Angeles, where it will be available exclusively at the World of Wonder merch booth (#1205).
---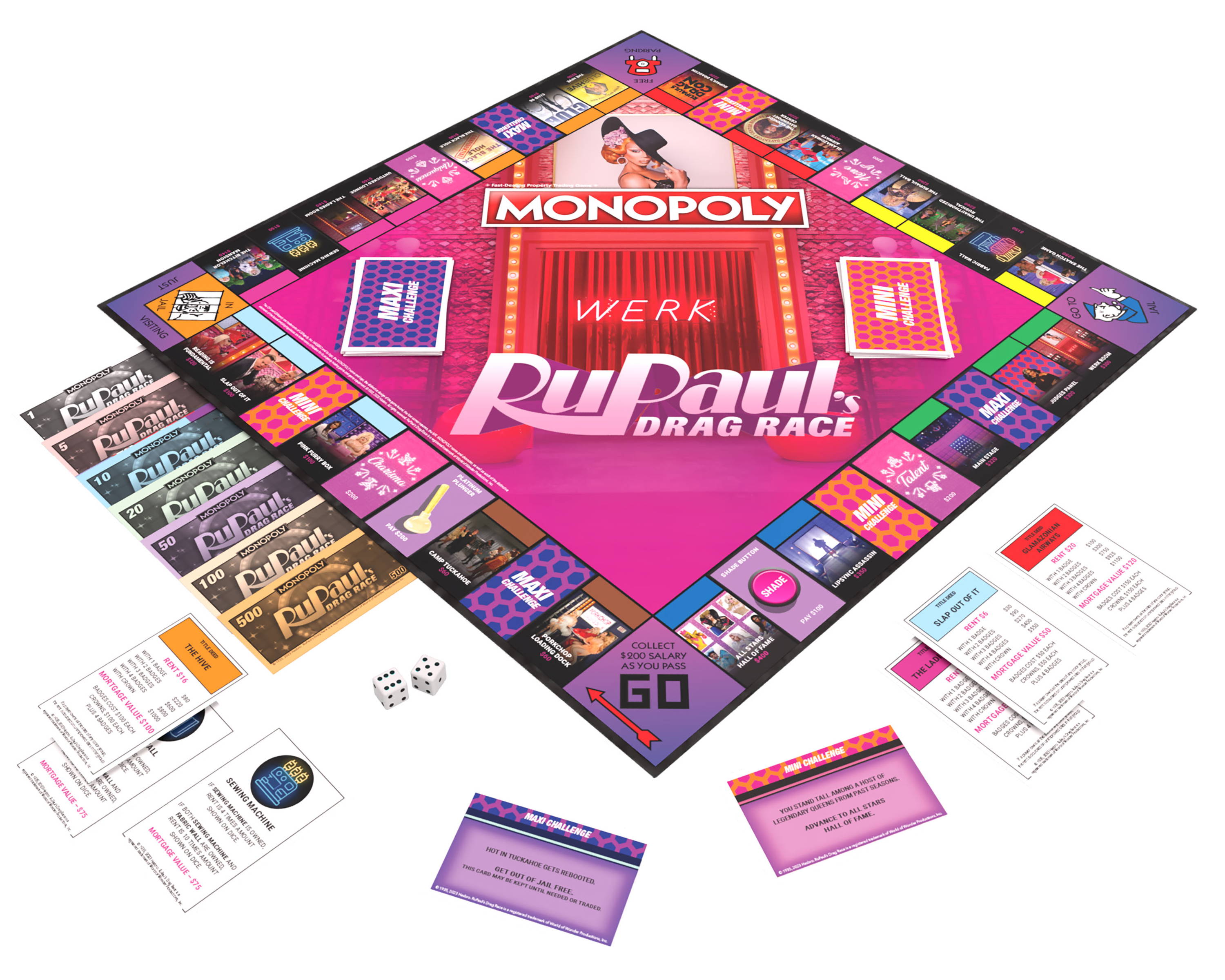 In this "diva-fied" version of the classic board game, players better werk as they step into the heels of the reality show's contestants to buy, sell, and trade iconic locations from the competition, such as Winners Circle, All Stars Hall of Fame, Judges Panel, and more. Sissy that walk across the board with runway essential tokens, then place Badges (Houses) and Crowns (Hotels) to rack up custom Ru Dollars. Be the last player to watch all the others sashay away to win!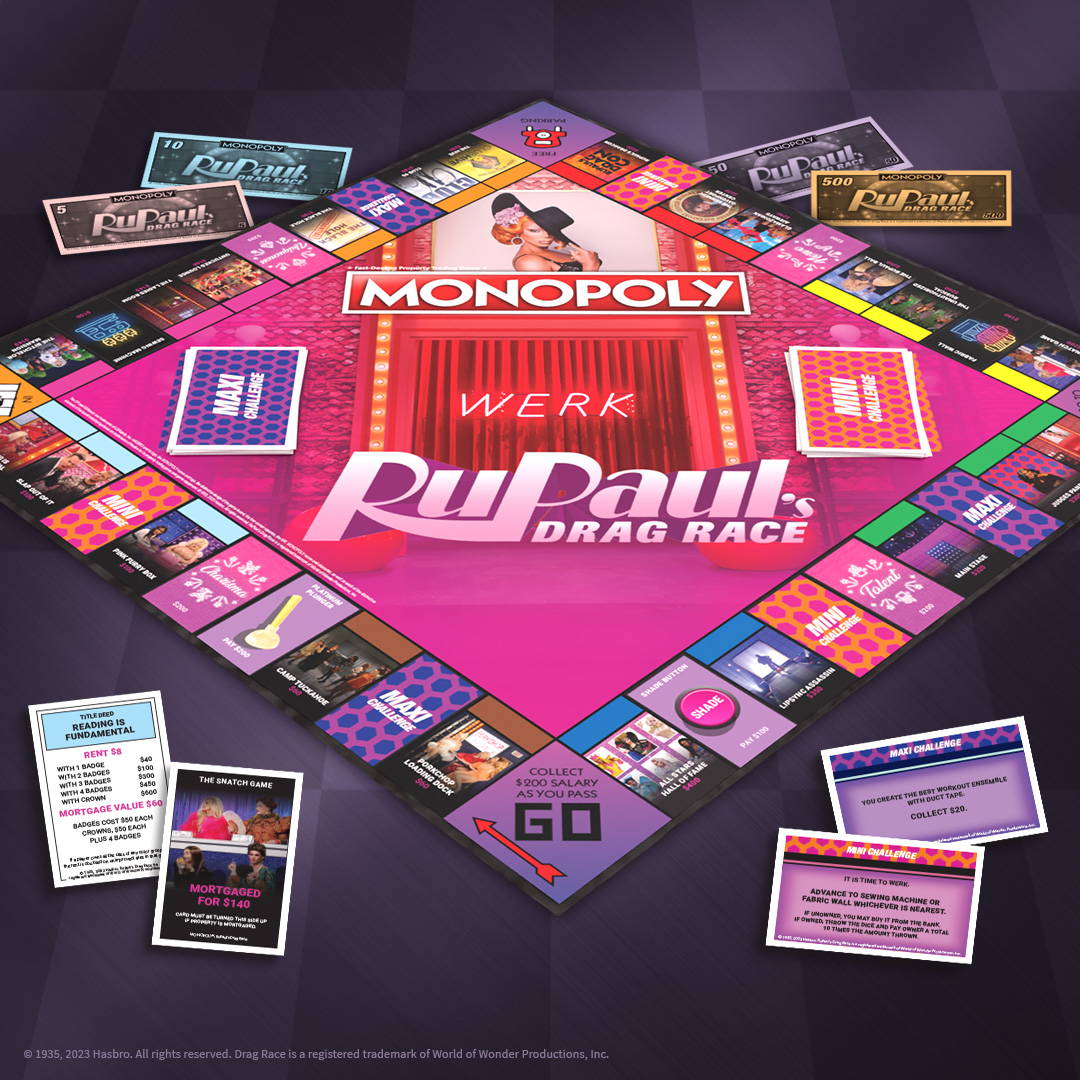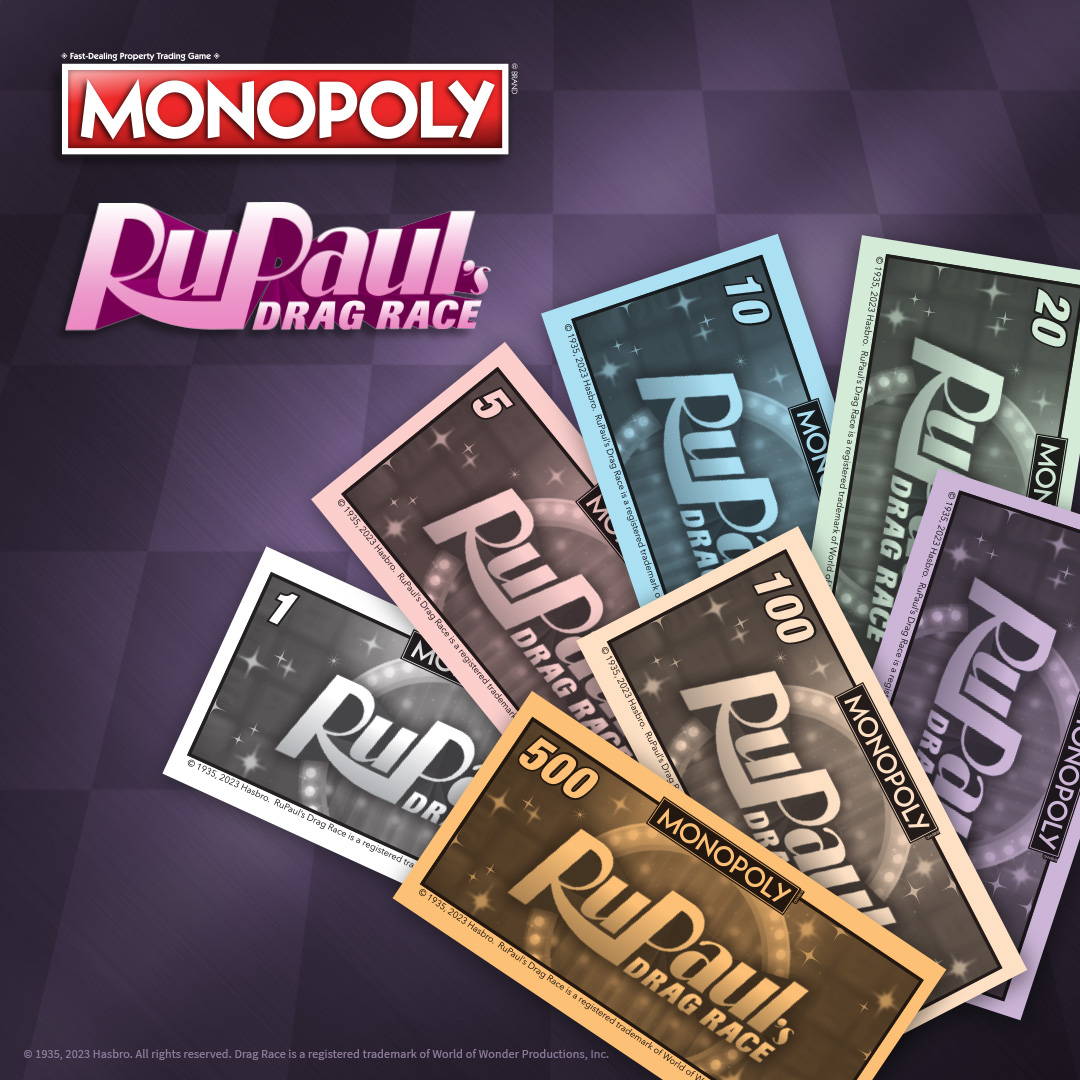 "There couldn't be a more fabulous way to unveil the first-ever edition of MONOPOLY®: RuPaul's Drag Race than at DragCon 2023," said Jodi Wasserman, Vice President of Marketing of The Op Games. "In celebration, we are inviting all levels of fans to come by booth #1335 to see the game in all its glory, take a photo in front of the 10' box cover backdrop, and roll the giant fuzzy dice for a chance to win games and other Drag Race themed prizes."

Created for two to six players, ages 14 and up, MONOPOLY®: RuPaul's Drag Race features six custom sculpted tokens including a Checkered Flag, Lipstick, Roll of Duct Tape, Purse, Reading Glasses, and Chocolate Bar. The game also includes on-theme Chance and Community Chest cards, which have been renamed as "Mini Challenge" and "Maxi Challenge" cards, respectively.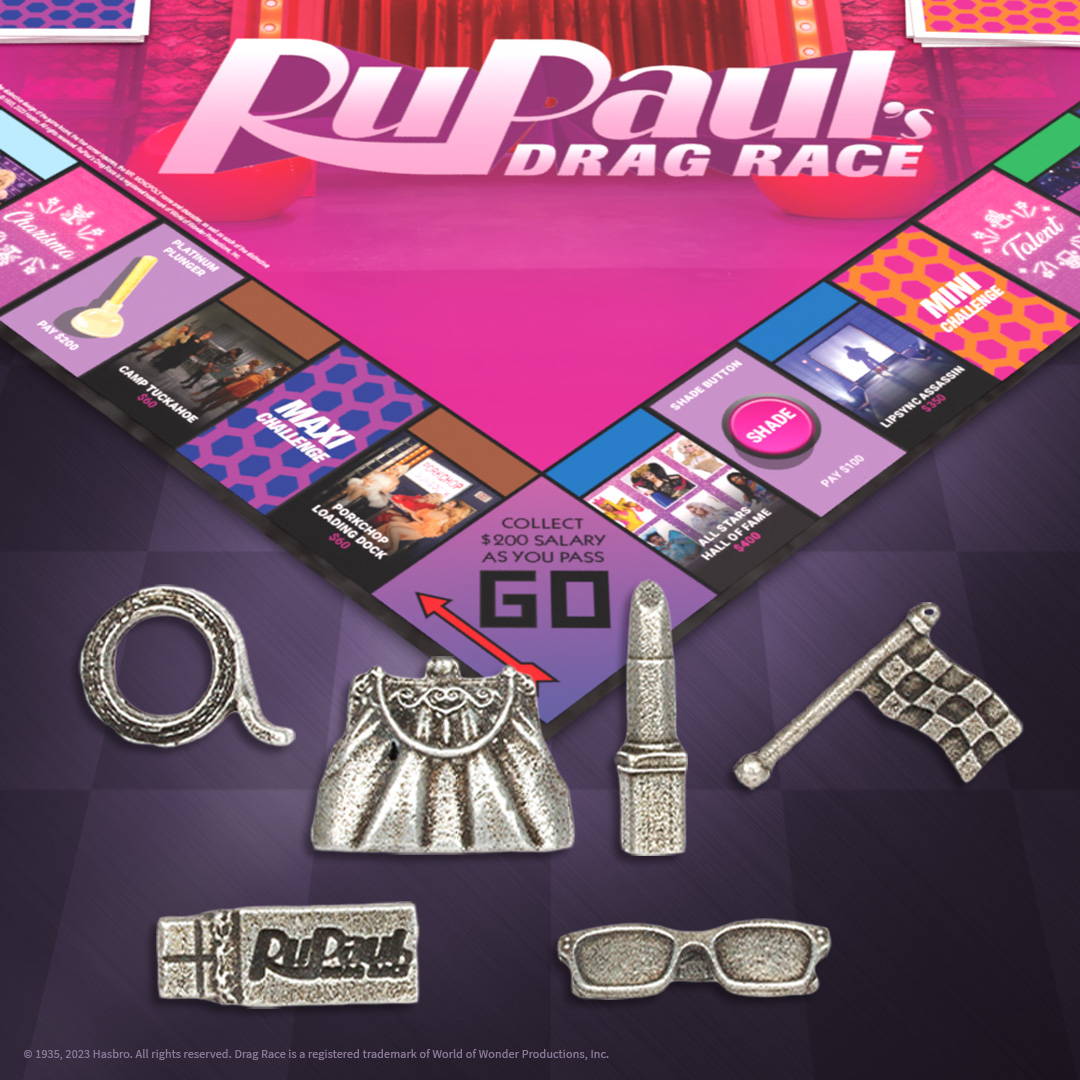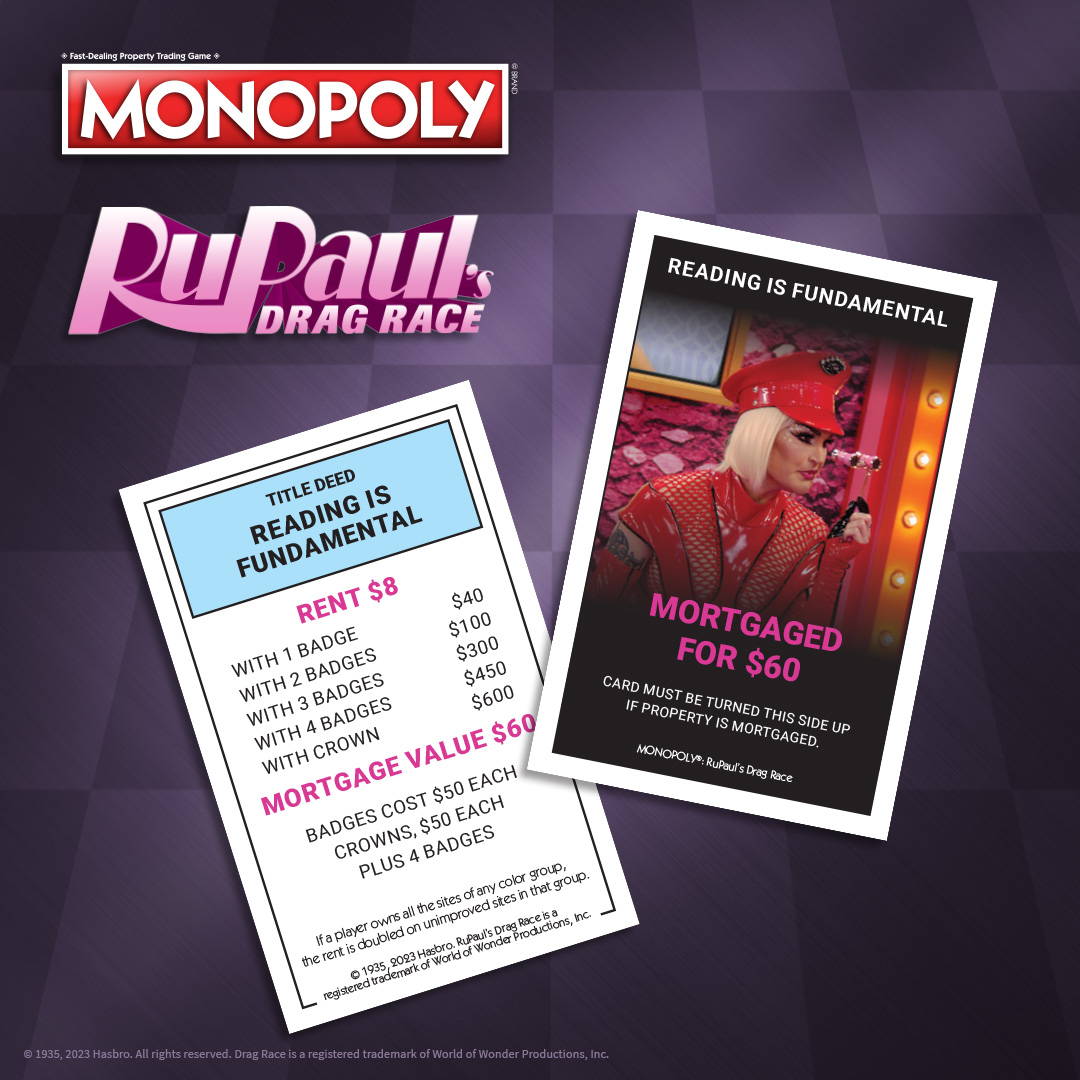 MONOPOLY®: RuPaul's Drag Race (MSRP: $44.99) is the ultimate collectible game for drag queen fans and will initially be sold exclusively at the World of Wonder merch booth at DragCon 2023 before being released on www.TheOp.Games and the WorldofWonder.com store. Learn more about the game and new announcements by following  @TheOpGames and @RuPaulOfficial.

Presented by RuPaul and World of Wonder Productions, RuPaul's DragCon LA returns to the Los Angeles Convention Center on Friday May 12th and Saturday May 13th, 2023. A super-inclusive hub of self-expression, DragCon is the largest celebration of drag culture in the world and will include signings and meet & greets with fan-favorite Queens, fierce mainstage performances, wig-snatching merch, and immersive activations from RuPaul's Drag Race and fan-favorite WOWPresents Plus shows. Tickets are available for purchase at rupaulsdragcon.com.
Check out these other great games you may love!
---
About The Op Games - Usaopoly
The Op, also known as Usaopoly, is a family entertainment company and leading publisher and manufacturer of board games and puzzles for over 25 years! Our diverse portfolio includes award-winning and best-selling titles such as TELESTRATIONS®, BLANK SLATE™, HUES & CUES®, TAPPLE and HARRY POTTER™ HOGWARTS BATTLE™ as well as licensed versions of MONOPOLY®, CLUE®, MUNCHKIN®, TRIVIAL PURSUIT®, DICE THRONE, SMASH UP, and more. The Op continues to partner with marquee brands and licensors such as Hasbro, Disney, Marvel, Nintendo, Warner Bros., Cartoon Network, and Nickelodeon. The Op is passionate about bringing family, friends, and fans together to create memorable experiences through play! Learn more at www.TheOp.games.

About World of Wonder
World of Wonder (WOW) has reshaped international pop culture, earning 30 Emmys, inspiring two Oscars, creating global network WOW Presents Plus across 190 territories, and bringing drag culture to the world stage via RuPaul's Drag Race and DragCon. WOW's pioneering television portfolio includes other smash-hit franchises like Million Dollar Listing. Their film division WOW Docs produces groundbreaking documentaries including Mapplethorpe: Look at the Pictures, Party Monster, and The Eyes of Tammy Faye. WOW also operates YouTube channel WOWPresents, music label World of Wonder Records, the WOW Podcast Network, and year-round international live events. Co-founders Fenton Bailey and Randy Barbato have been profiled in Variety's Reality TV Impact Report. Honors for their trailblazing work include the IDA Pioneer Award, Realscreen's Global 100 list, and the OUT 100. In 2022, World of Wonder was ranked #2 among film and TV powerhouses in Fast Company's World's 50 Most Innovative Companies.

About MONOPOLY®
MONOPOLY® first hit shelves in 1935 with the Racecar, Thimble, Boot, Top Hat, and Battleship among the original set of MONOPOLY® tokens while the Scottie Dog and Wheelbarrow were added in the early 1950s. Although the brand has evolved over the past 87 years, the gameplay and iconography of the classic MONOPOLY® game has remained unchanged, making it a timeless classic sure to be enjoyed by future generations. Today, MONOPOLY® is the world's favorite family game brand and is enjoyed by more than one billion players in 114 countries across the globe.

About Hasbro
Hasbro is a global leader in play whose mission is to entertain and connect generations of fans through the wonder of storytelling and exhilaration of play. Hasbro delivers engaging brand experiences for global audiences through gaming, consumer products and entertainment, with a portfolio of iconic brands including MAGIC: THE GATHERING, DUNGEONS & DRAGONS, Hasbro Gaming, NERF, TRANSFORMERS, PLAY-DOH and PEPPA PIG, as well as premier partner brands.

Hasbro is guided by our Purpose to create joy and community for all people around the world, one game, one toy, one story at a time. For more than a decade, Hasbro has been consistently recognized for its corporate citizenship, including being named one of the 100 Best Corporate Citizens by 3BL Media, one of the World's Most Ethical Companies by Ethisphere Institute and one of the 50 Most Community-Minded Companies in the U.S. by the Civic 50. For more information, visit https://corporate.hasbro.com.