The Op Games Launches MONOPOLY®: National Lampoon's Christmas Vacation Edition

Fans Can Have the Hap-Hap-Happiest Christmas with This Spirited Board Game Spin on the Classic Christmas Comedy.
CARLSBAD, Calif., September 6, 2023 – Usaopoly (The Op), the board game and puzzle publisher behind best-selling party games including Telestrations®, Blank Slate™, and Hues and Cues™ and Warner Bros. Discovery Global Consumer Products, today launched the ultimate game for fans of the Griswolds with MONOPOLY®: National Lampoon's Christmas Vacation Edition, under license by Hasbro, a leading toy and game company. Fans can now relive the chaos of the beloved Christmas comedy in a spirited take on America's favorite family board game.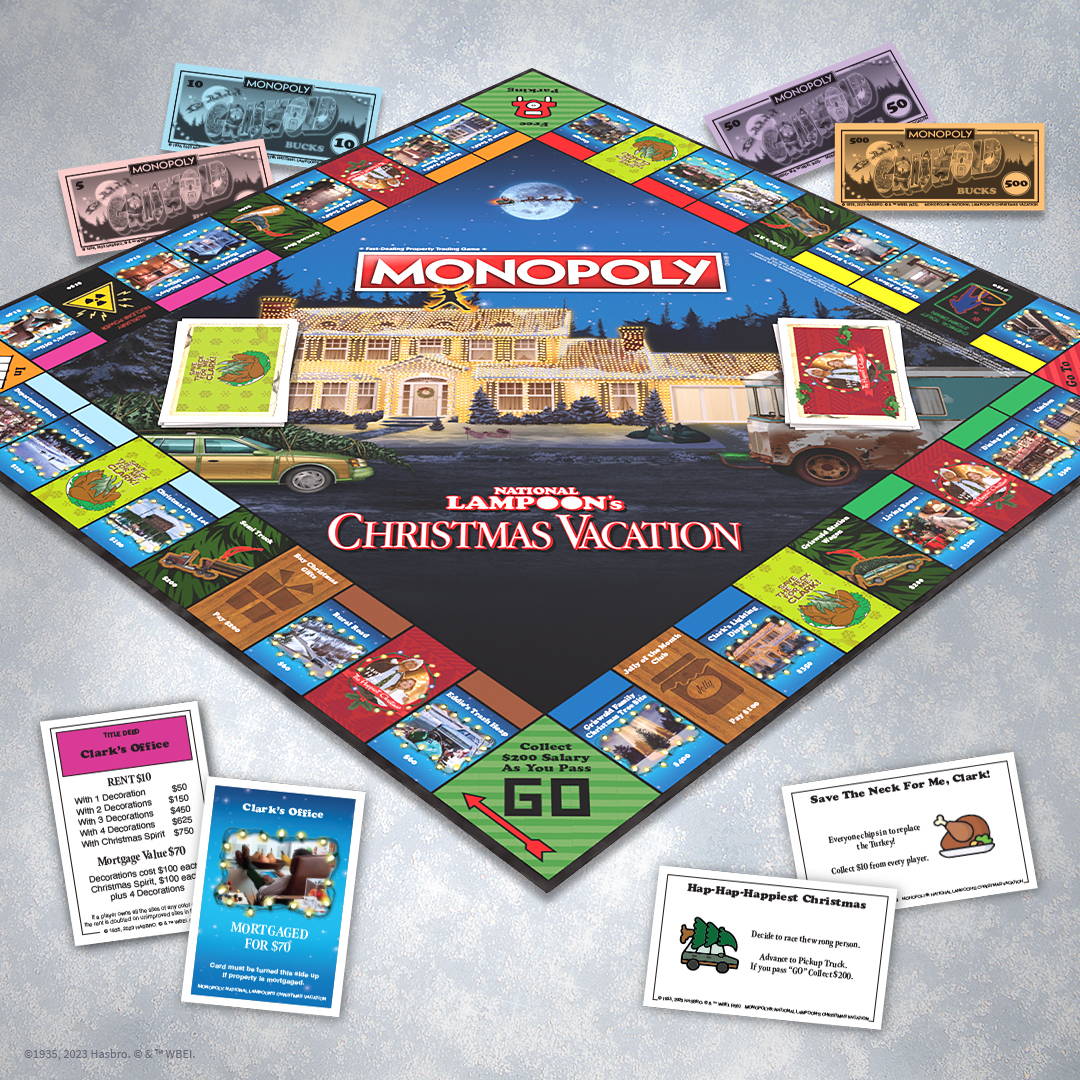 In MONOPOLY®: National Lampoon's Christmas Vacation Edition, players will buy, sell, and trade locations from the hilarious holiday classic including Clark's Lighting Display, Griswold Family Christmas Tree Site, and more. You'll be challenged to travel the board with custom movie-inspired tokens including a Dry Turkey, Chainsaw, Squirrel, Snots, Marty Moose Eggnog Glass, or Film Reel to set up Houses, now named Decorations, and Hotels, newly dubbed Christmas Spirit, all while dodging costly Chemical Toilet Storm Drain and Jelly of the Month payments.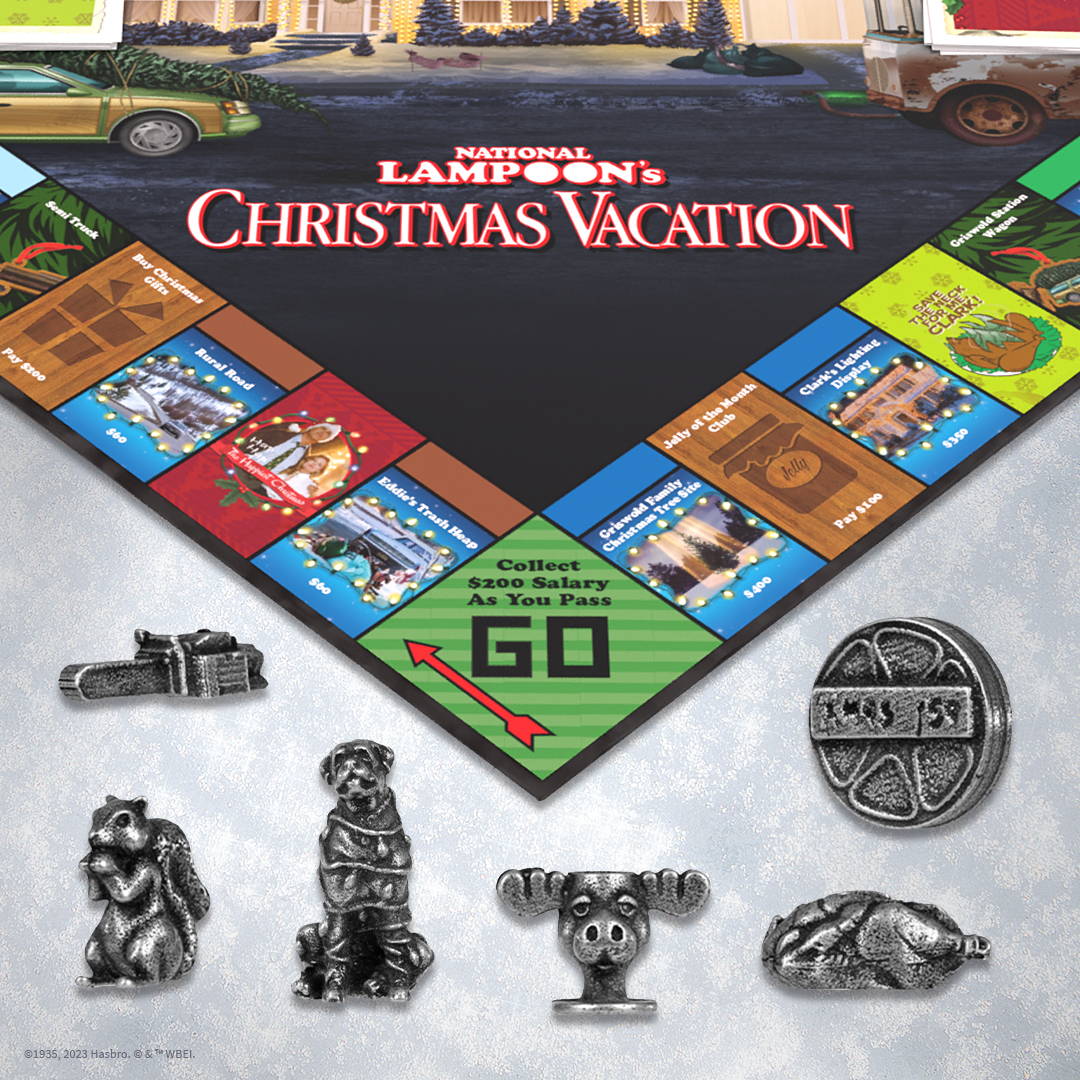 "We're thrilled to be adding another iconic license to our line, especially the hilarious classic National Lampoon's Christmas Vacation," said Dane Chapin, CEO of The Op. "We love making new, custom versions of MONOPOLY and are especially excited to launch this one ahead of the holidays so many can revisit this Christmas comedy favorite."
Designed for two to six players, ages 15 and up, fans can rack up more Griswold Bucks with the help of "Hap-Hap-Happiest Christmas" (Community Chest) cards and "Save the Neck for Me, Clark!" (Chance) cards. Be the last player with Griswold Bucks left to win!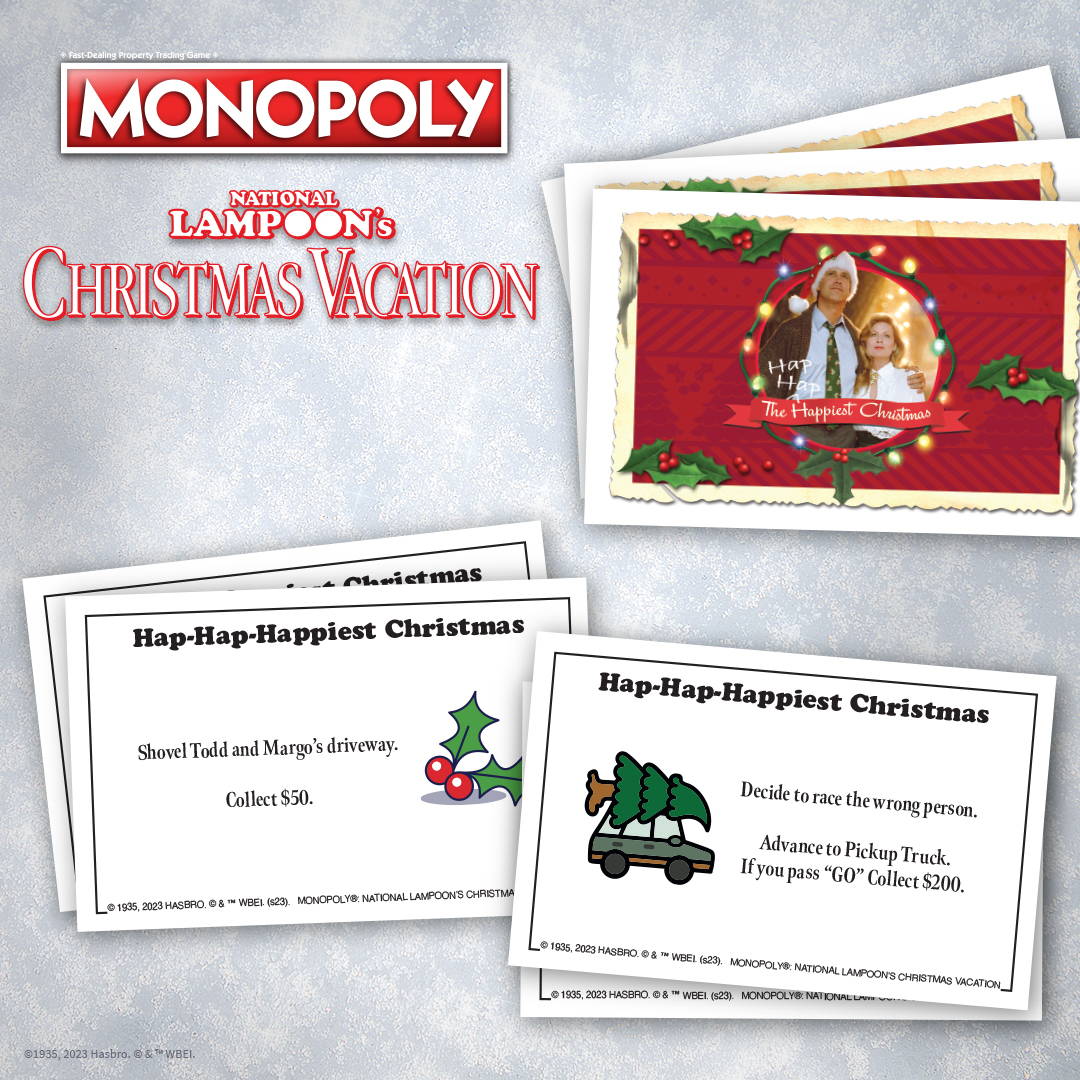 It's Never Too Late to Get Into the Holiday Spirit with these Games!
About MONOPOLY
MONOPOLY first hit shelves in 1935 with the Racecar, Thimble, Boot, Top Hat, and Battleship among the original set of MONOPOLY tokens, while the Scottie Dog and Wheelbarrow were added in the early 1950s. Although the brand has evolved over the 87 years, the gameplay and iconography of the classic MONOPOLY game has remained unchanged, making it a timeless classic sure to be enjoyed by future generations. Today, MONOPOLY is the world's favourite family game brand and is enjoyed by more than one billion players in 114 countries across the globe.
About Usaopoly (aka The Op Games)
The Op, also known as Usaopoly, is a family entertainment company and leading publisher and manufacturer of board games and puzzles for over 25 years! Our diverse portfolio includes award-winning and best-selling titles such as TELESTRATIONS®, BLANK SLATE™, HUES & CUES™, TAPPLE and HARRY POTTER™ HOGWARTS BATTLE™ as well as licensed versions of MONOPOLY®, CLUE®, MUNCHKIN®, TRIVIAL PURSUIT®, DICE THRONE, SMASH UP, and more. The Op continues to partner with marquee brands and licensors such as Hasbro, Disney, Marvel, Nintendo, Warner Bros., Cartoon Network, and Nickelodeon. The Op is passionate about bringing family, friends, and fans together to create memorable experiences through play! Learn more at www.TheOp.games.
About Hasbro
Hasbro is a toy and game company whose mission is to entertain and connect generations of fans through the wonder of storytelling and exhilaration of play. Hasbro delivers engaging brand experiences for global audiences through toys, consumer products, gaming and entertainment, with a portfolio of iconic brands including MAGIC: THE GATHERING, DUNGEONS & DRAGONS, Hasbro Gaming, NERF, TRANSFORMERS, PLAY-DOH and PEPPA PIG, as well as premier partner brands.
Hasbro is guided by our Purpose to create joy and community for all people around the world, one game, one toy, one story at a time. For more than a decade, Hasbro has been consistently recognized for its corporate citizenship, including being named one of the 100 Best Corporate Citizens by 3BL Media, one of the World's Most Ethical Companies by Ethisphere Institute and one of the 50 Most Community-Minded Companies in the U.S. by the Civic 50. For more information, visit https://corporate.hasbro.com.

About Warner Bros. Discovery Global Consumer Products
Warner Bros. Discovery Global Consumer Products (WBDGCP), part of Warner Bros. Discovery Global Brands, Franchises, and Experiences, extends the company's powerful portfolio of entertainment brands and franchises into the lives of fans around the world. WBDGCP partners with best-in-class licensees globally on award-winning toy, fashion, home décor and publishing programs inspired by the biggest franchises from Warner Bros.' film, television, animation, and games studios, HBO, Discovery, DC, Cartoon Network, HGTV, Eurosport, Adult Swim, and more. With innovative global licensing and merchandising programs, retail initiatives, and promotional partnerships, WBDGCP is one of the leading licensing and retail merchandising organizations in the world.