The Op Games Launches CLUE®: Diary of a Wimpy Kid - Available Now!

Fans Can Play as Their Favorite Characters from the Wimpy Kid World with a Mysterious New Twist
CARLSBAD, Calif., August 17, 2023 -- Usaopoly (The Op), the board game and puzzle publisher behind best-selling party games including Telestrations®, Blank Slate™, and Hues and Cues™, launched the most humorous version of the classic mystery game with CLUE®: Diary of a Wimpy Kid. Based on Jeff Kinney's popular book series with over 275 million copies sold worldwide, the game will enable fans to play as their favorite characters from the Wimpy Kid world with a mysterious new twist.

In the game, Greg Heffley loses sight of his little brother Manny and it's up to the players to help solve the mystery and recover the toddler before time runs out.
With six familiar character movers to choose from, players can take on the roles of Greg, Rowley, Frank, Rodrick, Susan or Holly to figure out WHERE Manny has wandered off, WHO he's with, and WHAT distracted him! In an added twist on the classic game, each character also comes with a corresponding personality card that features unique game-changing abilities to give players a leg up as they solve the mystery.
"We are excited to have the opportunity to merge one of the most iconic game titles with one of the best-selling kid's book series of all time," said Dane Chapin, CEO of The Op. " We are passionate about creating games that bring families and friends together to create new memories - making CLUE: Diary of Wimpy Kid a perfect fit for fans of all ages. "
With a fun, new spin on the classic CLUE components, the weapon tokens have become "distraction tokens" representing Manny's possible distractions including The Cheese, Greg's Journal, Manny's Pacifier, Ladybug Cellphone, The Pig and Manny's Training Potty. Designed for two to six players, ages eight and up, CLUE®: Diary of a Wimpy Kid features custom-illustrated artwork displaying several well-known locations from the popular book series across the board. The game also includes six Suspect Clue cards, six Secret Clue cards, nine Location Clue cards, 25 Intrigue cards and the infamous Clue mystery revealing envelope.
"We are thrilled to have collaborated with Usaopoly and Hasbro to create a board game that captures the best of both worlds: the classic intrigue of Clue and the humor of Wimpy Kid," said Jeff Kinney, author of the book series. "We can't wait for fans to crack the case to find Manny and are confident they'll have as much fun playing the game as we had creating it!"

For the ultimate Wimpy Kid fans, a release celebration will be hosted at author Jeff Kinney's bookstore, "An Unlikely Story" located in Plainville, Massachusetts, on Wednesday, August 23. Attendees will be able to play the new game, purchase copies of their own and enter to win a number of free prizes and promotions.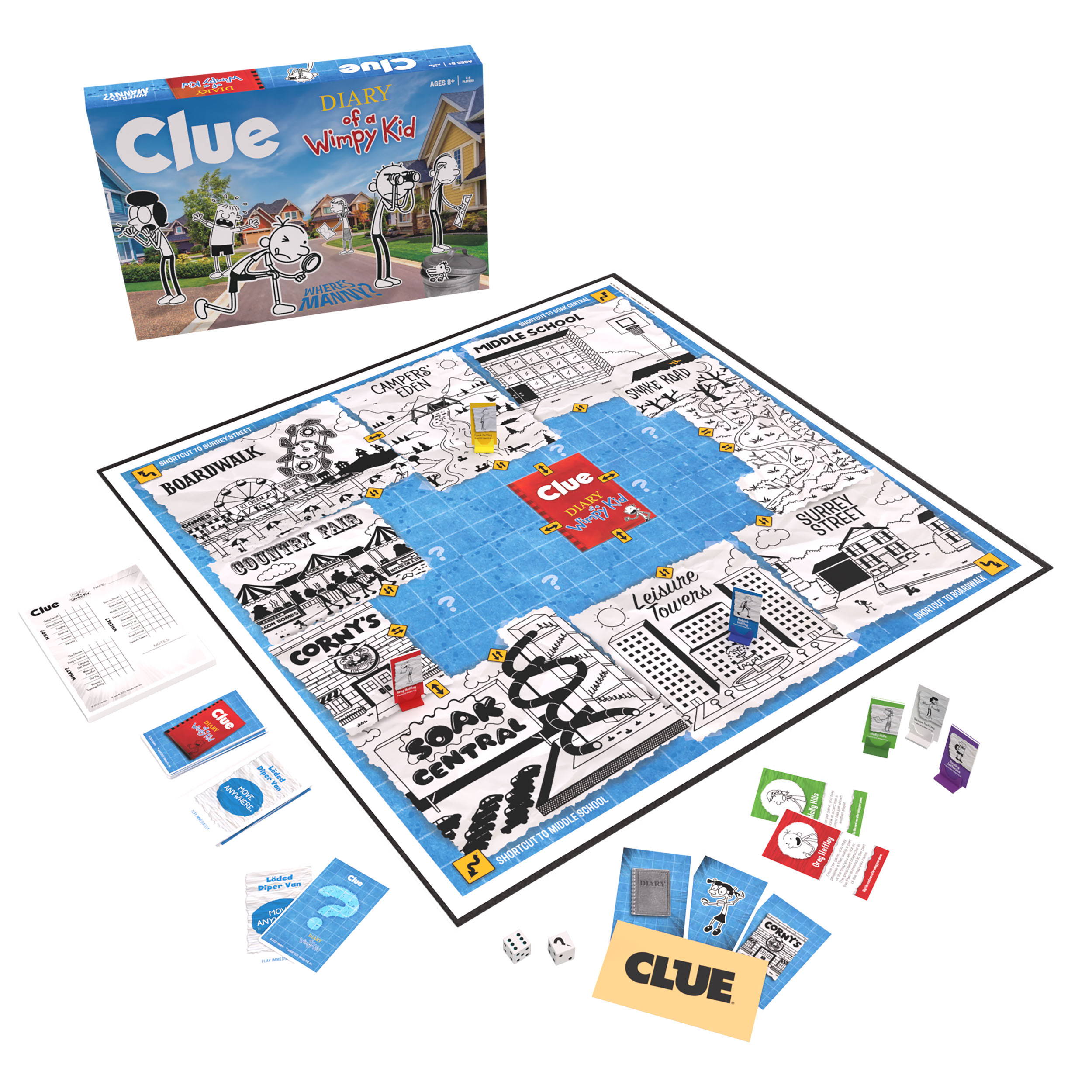 About Usaopoly (aka The Op Games)
The Op, also known as Usaopoly, is a family entertainment company and leading publisher and manufacturer of board games and puzzles for over 25 years! Our diverse portfolio includes award-winning and best-selling titles such as TELESTRATIONS®, BLANK SLATE™, HUES & CUES™, TAPPLE and HARRY POTTER™ HOGWARTS BATTLE™ as well as licensed versions of MONOPOLY®, CLUE®, MUNCHKIN®, TRIVIAL PURSUIT®, DICE THRONE, SMASH UP, and more. The Op continues to partner with marquee brands and licensors such as Hasbro, Disney, Marvel, Nintendo, Warner Bros., Cartoon Network, and Nickelodeon. The Op is passionate about bringing family, friends, and fans together to create memorable experiences through play! Learn more at www.TheOp.games.
About the Jeff Kinney
Jeff Kinney is a #1 New York Times bestselling author of the Diary of a Wimpy Kid series and the Awesome Friendly Kid series. He is a six-time Nickelodeon Kids' Choice Award winner for Favorite Book and has been named one of Time magazine's 100 Most Influential People in the World. He spent his childhood in the Washington, D.C. area and moved to New England, where he and his wife own a bookstore named An Unlikely Story.
About Hasbro
Hasbro is a global leader in play whose mission is to entertain and connect generations of fans through the wonder of storytelling and exhilaration of play. Hasbro delivers engaging brand experiences for global audiences through gaming, consumer products and entertainment, with a portfolio of iconic brands including MAGIC: THE GATHERING, DUNGEONS &; DRAGONS, Hasbro Gaming, NERF, TRANSFORMERS, PLAY-DOH and PEPPA PIG, as well as premier partner brands. Hasbro is guided by our Purpose to create joy and community for all people around the world, one game, one toy, one story at a time. For more than a decade, Hasbro has been consistently recognized for its corporate citizenship, including being named one of the 100 Best Corporate Citizens by 3BL Media, one of the World's Most Ethical Companies by Ethisphere Institute and one of the 50 Most Community-Minded Companies in the U.S. by the Civic 50. For more information, visit https://corporate.hasbro.com/en-us.
More Games You May Like Below!